This weekend, when I asked my nephew if he would like a banana, he replied "yeah, I'm really not a fan of bananas". My mom & I found this response hilarious & I realize that you have to know Caden & to have heard his delivery to "get it" but do you know what I'm "not a fan of" these days? Blogs that have mobile versions. I like the real deal (so old fashioned I know) and I don't mind waiting for them to load, thank you. The problem is the pictures...I love looking at the pictures on blogs and they don't work right on mobile-it switches to another post if you try to scroll. Now I do love the blogs themselves, don't get me wrong-I just switch to full site, so I don't miss a thing! But that's just me.
My son has already worn a hole in his backpack. And his shoes. Keep in mind we are only 3 months into school.
The two big girls got to go on a date night tonight to our very most awesome Chick-fil-a (shameless & possibly biased plug). Part of the fun for them was picking their own outfit & getting all ready. Please take note that Lily made sure to accessorize. The icing on the evening...a limo ride awaiting them after their meal. Can you get any more awesome?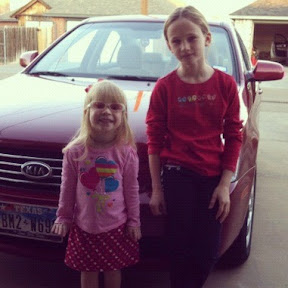 - Posted using BlogPress from my iPhone